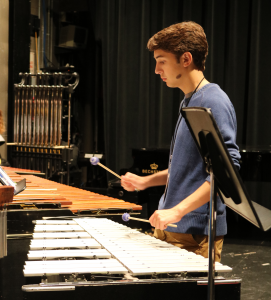 The Lima Area Concert Band has awarded its annual Woolley Scholarship to to Tate Stewart from Shawnee High School. He is a percussionist who will be attending BGSU in the fall. Tate played a marimba solo for his audition and the scholarship committee was very impressed with his great technique and musicality. Congratulations, Tate!
We the members of the Lima Area Concert Band have continued to utilize and enjoy what was begun early in life, on the day a musical instrument was first placed in our hands.  What was introduced by a music teacher, supported by family members, and developed by a band director, has provided us with a valuable gift that has stood the test of time.
As you prepare to graduate, we want to encourage you to transition into your college experience with instrument in hand. You do not have to be a Music Major to benefit from, and to enjoy, what you have already accomplished on your instrument. Each year, in a small effort to "pay it forward", we offer a $1,000.00 scholarship to a college freshman who plans to continue playing their instrument in college.
We ask you to fill out this form and prepare for a very informal audition before a small group of 3 to 5 members of the LACB.  This is not a "public" audition and there will be no "audience". If you've played at OMEA contest, you will find this far more relaxed, though several of our members are OMEA Adjudicators.
Bring with you 1) your instrument, 2) your music and 3) a judge's copy.
Audition dates for 2021 are TBA.
Schedule your date by contacting the LACB via phone or email:
Angie Herzog
419-235-5412
Your information will then be forwarded to our LACB Scholarship Chairperson, Lucy Altstaetter.